Leon – detail, 2007
150×170×20 cm silicone on canvas
A pre-painting in my concept is literally a "paint in front of the painting". The color is physically separated from the basis. It touches it only in the minimum number of points, creating an illusion of levitation. My aim is to give the painting a symbolic autonomy, independence from the background.
It is also necessary to emphasize that it is still a matter of a painting and not an object, even though painting itself has a three-dimensional character. It is a painting because it still retains its conventions. 1/
The actual paint on the painting is located in a certain marginal space. It wants to be physically autonomous, but it cannot get rid of its original identity without having ceased to be a painting and becoming an object, a sculpture.
This intermediate state is the starting point for the selection of themes and motifs that synthesize forms of 20th-century modernist painting in a simple "universal" style, which in thick monochromatic matter of paint has absorbed Impressionist gestures, expressive ferocity, Abstraction, the intangibility of Informel, the absurdity of Dada, the Surrealist subconscious, the spontaneity of Abstract Expressionism, the artifice of Conceptualism as well as Postmodern eclecticism.
1/ It is neither a collage, because it does not consist of various elements, nor a relief because it is assumed that it is homogeneous with its basis. On top of that, it is a painting "made" from the monochromatic matter of paint. It is not a mock-up painting.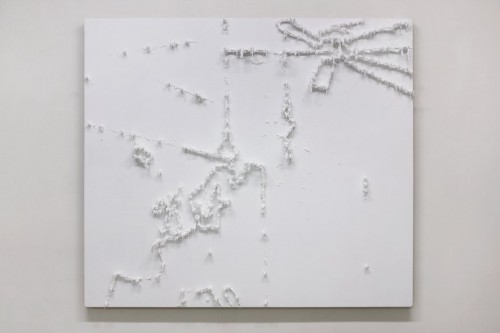 Pre-Painting of an Advertisement, 2008
150×170×20 cm silicone on canvas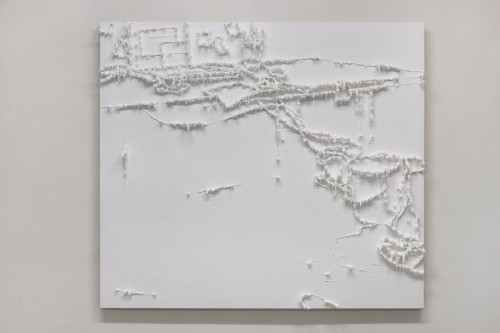 Pre-Painting of an Advertisement, 2008
150×170×20 cm silicone on canvas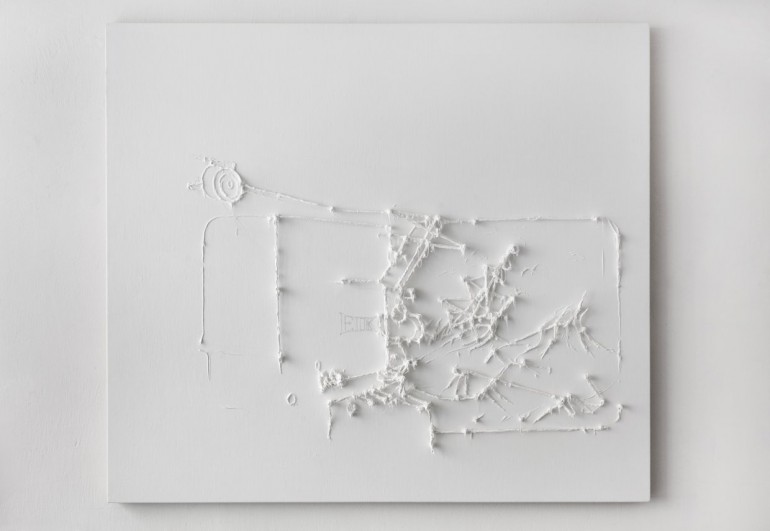 Pre-Painting of an Advertisement, 2008
150×170×20 cm silicone on canvas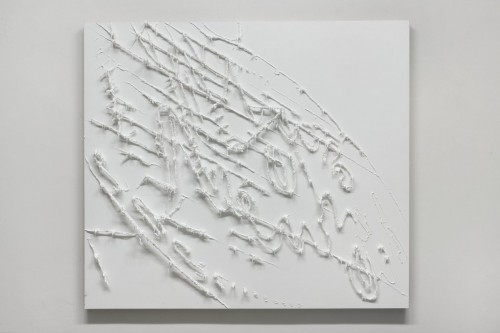 Pre-Painting of an Advertisement, 2008
150×170×20 cm silicone on canvas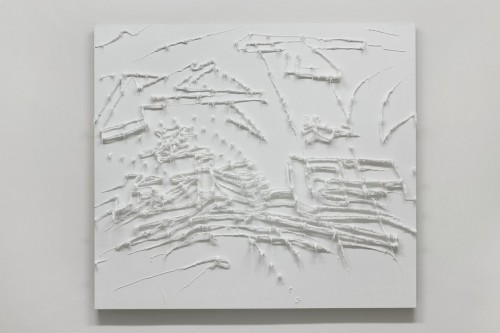 Pre-Painting of an Advertisement, 2008
150×170×20 cm silicone on canvas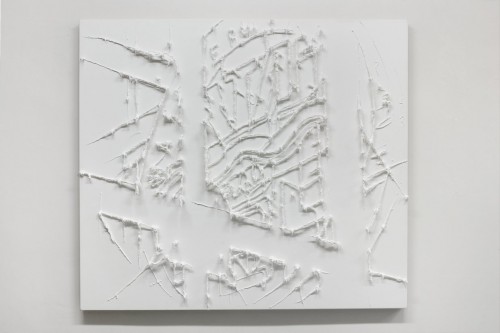 Pre-Painting of an Advertisement, 2008
150×170×20 cm silicone on canvas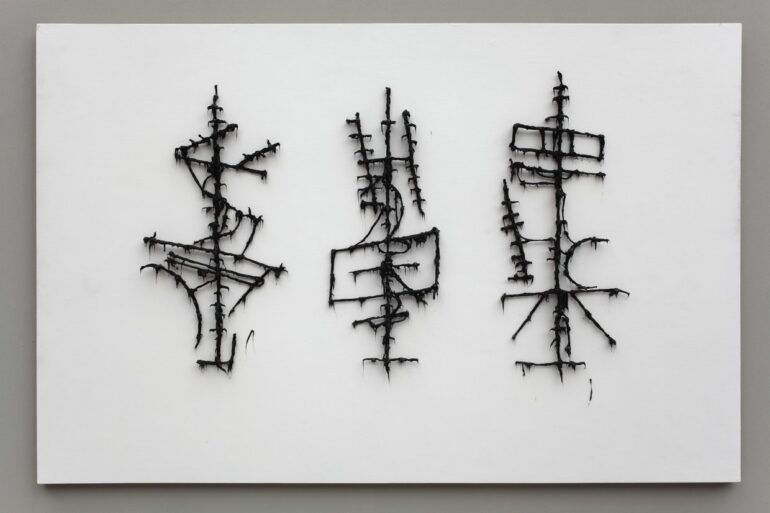 Pre-Painting of an Advertisement, 2008
150×170×20 cm silicone on canvas
William
2014
150 × 170 × 20 cm
silicone, synthetic, glass, metal, wood
The painting is a reinterpretation of William Turner's painting The Fighting "Temeraire" tugged to her last berth to be broken up, 1838, oil on canvas, 91 x 122 cm; National Gallery, London.
The compression of colors of the original canvas has given rise to a uniform color space which corresponds to the character of water. The dominant shades are affected by the sunset in the background and its reflection in the water. The resulting skewed composition is balanced by a Constructivist frame functioning as a candlestick, which refers to the date of inception of the original painting. The character of the frame is affected by the morphology of Tatlin's "counter-reliefs", created based on his experience as a merchant sea cadet, when he was fascinated by the design of masts, bowsprits and yards of sailboats.1/
1/ Art since 1900, p. 127