The "Binds" are small objects that develop ideas of abstract sculpture. They are not, however, sculptures in the true sense of the word, but rather something reminiscent of them. It is not their ideal function to exist as independent objects. Their real meaning is connected to the context of which they are a part, or on which, in extreme cases, they parasite. It is therefore more a matter of components, segments, units, interlinks, bindings, complicators, decelerators …
In order for it to be possible to connect a "bind" to a context, it is equipped with amateur, but nonetheless expressive and functional devices (karabiners, clips, wires, cables, strings…). The object as a whole is intended to create a somewhat wild, chaotic, amateur and perhaps even overcomplicated impression – as if someone had attempted several times to make running repairs to the object under unsuitable conditions. Some of the "binds" therefore appear quite bungled.
These "binds" could be, for example, components of a specific thing (a refrigerator, bookcase, car, computer, toy, or some other work of art…), or of a specific space (electrical ciruit, heating system, or other network or system…). I believe that it is also possible to connect a "bind" to a person (e.g., to his belt, key ring, briefcase, etc.).
The task of the "bind" is to complicate the context of which it is a part, or at least to make it more complex. Another function is to alter the meaning of the context. For that reason, each object is equipped with a text – the so-called "binding declaration" – which describes a banal real-life event. The character of these statements is very ordinary and simple to the point of fatality in order for the "binds" to acquire a social and human "nature". This acts on the observer in such a way as to allow him to identify with it, and it would not be inappropriate if it were to evoke in him a gentle feeling of compassion or sympathy. These texts also cover situations which are "binds" or binding in life. They describe, for example, occurrences that prevent us from achieving a goal that we consider important. They sometimes outline a mini-story with an insidious or perplexing meaning. Very often they represent a problem that bothers or obstructs us, etc.
Just as these objects have an abstract basis, I also perceive the character of the texts as a kind of abstraction because their nature is banal. There are simply too many such situations in our lives, so many that they dissolve and lose clarity. They bother us just a little for a while and then we try to erase them from our minds, dump them or, in the best of cases, make fun of them. In any case, they are lost after a time and nothing is left of them. What I see as important, however, is that despite all their pettiness they form one of the fundamental elements of our lives, with which it is the best to reconcile ourselves and attach at least some small importance to.
One of the options for installing the "binds" in a space (e.g., in a gallery) is to connect them to a real or fictitious electrical system, and to complicate it by opening it in a number of places, exposing cables, sockets, etc. and attaching the "binds" to the system. It is good to do it in a complicated manner. I would draw inspiration, for example, from electrical wiring in poor quarters of the Third World, which certainly in its perfect amateurism must outdo the wiring in corridors of buildings possessed and maintained by the city of Prague.
Binds (sculptures referring to the infrastructure of galleries, buildings), 2004, mixed media, variable dimensions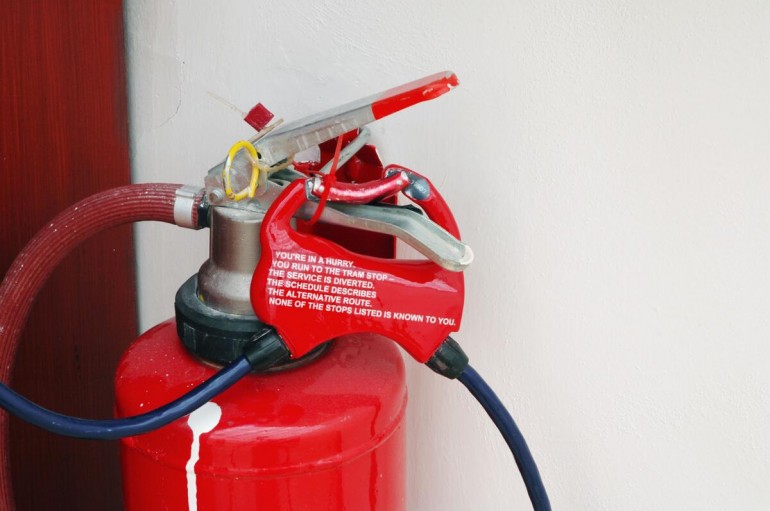 Fireman Bind, 2004, mixed media, variable dimensions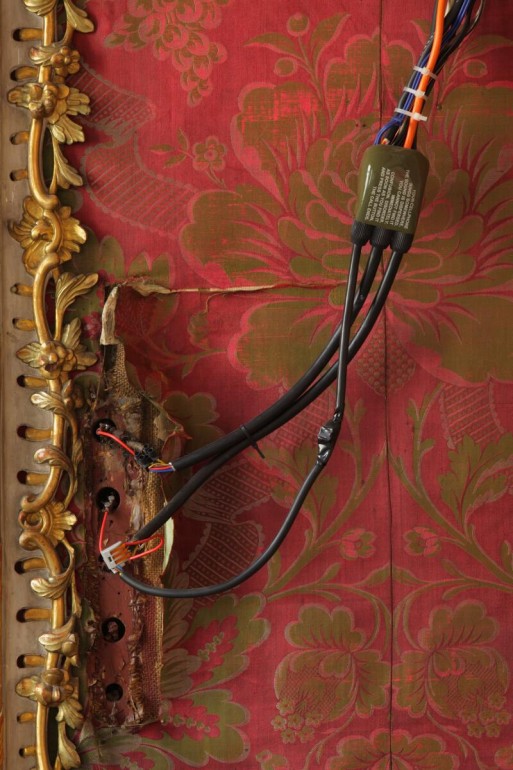 Binds, 2004, mixed media, variable dimensions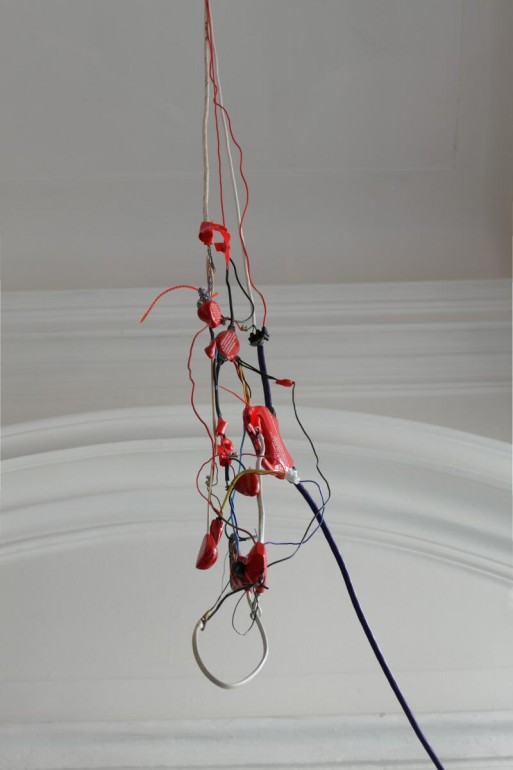 Bloody Multi-Bind, 2004, mixed media, variable dimensions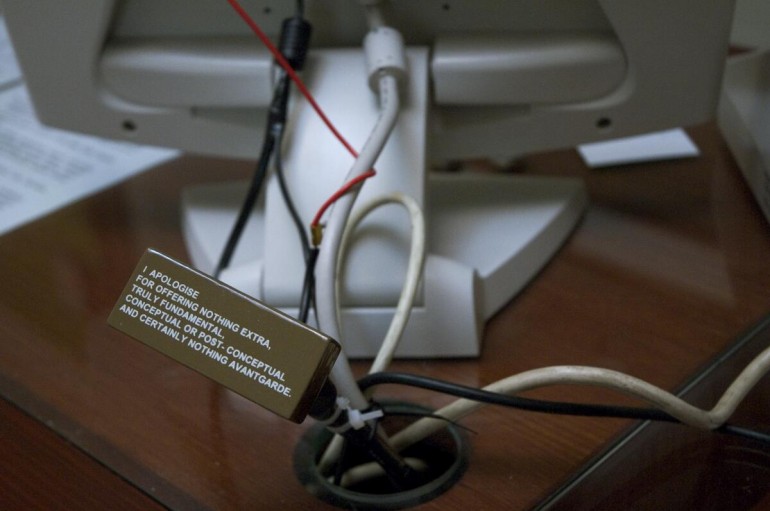 Bind of a Gallery Ticket Seller, 2004, mixed media, variable dimensions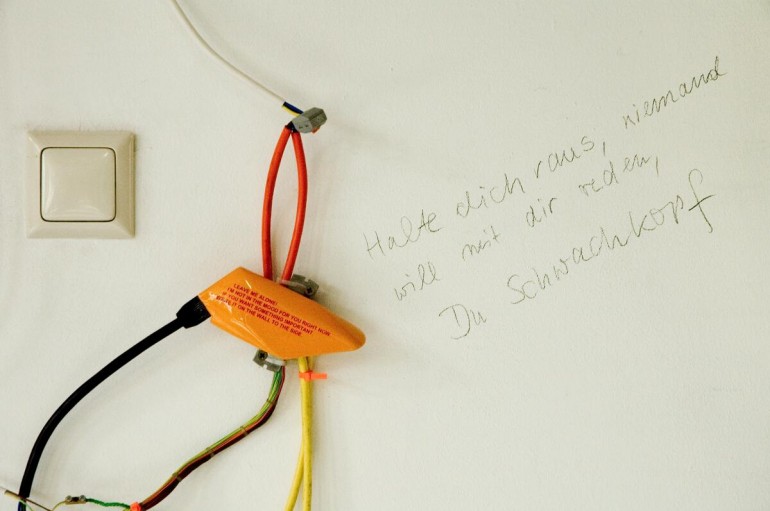 Ignorant Bind, 2004, mixed media, variable dimensions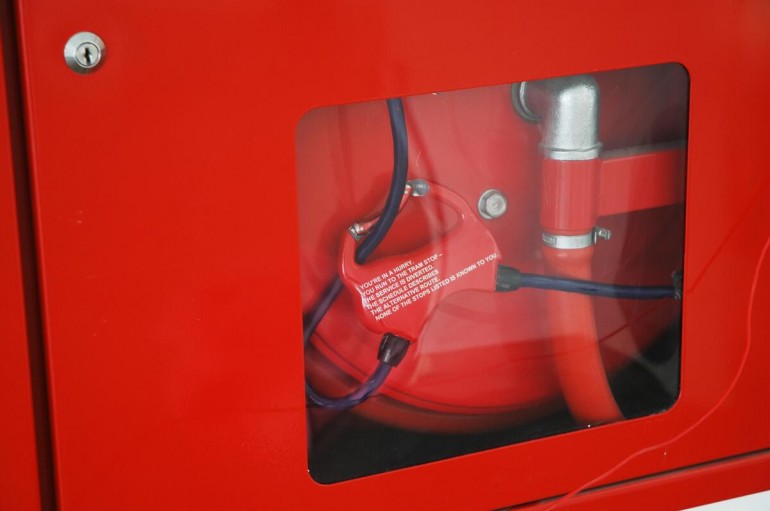 Fireman Bind, 2004, mixed media, variable dimensions
Epic Bind, 2004, mixed media, variable dimensions
INSTRUCTIONS FOR USE
IF YOU WANT TO RUN OUT IN THE EVENING TO DO SOME SHOPPING, THE SELF-SERVICE WILL PROBABLY BE CLOSING IN A MINUTE. YOU'D BETTER GET YOUR SKATES ON! AT THIS SPEED YOU WON'T KNOW IMMEDIATELY WHAT TO PUT ON, SO JUST THROW A COAT OVER YOUR SHOULDERS. TRY TO STUFF YOUR FEET INTO YOUR SHOES QUICKLY. YOU WILL HAVE A KNOT IN YOUR LACE AND YOU'RE FINGERNAILS WILL BE TOO SHORT, BECAUSE YOU BIT THEM YESTERDAY. BE CAREFUL ON THE LANDING IN CASE YOU SPLIT YOUR HEAD OPEN. THE STAIRS WILL BE WET, BECAUSE YOUR NEIGHBOUR DIDN'T RING THE CLOTH OUT PROPERLY WHEN SHE CLEANED THE FLOOR. WATCH OUT!!! WHEN YOU'RE RUNNING DOWN THE STAIRS YOUR SHOELACE MAY COME UNDONE, BECAUSE ADIDAS ONLY MAKES PLASTIC LACES. YOU HAVE CURSED THIS FACT 100 TIMES ALREADY. DOWNSTAIRS YOU DISCOVER THAT THE FRONT DOOR IS LOCKED AND YOU HAVE LEFT YOUR KEYS UPSTAIRS. DON'T SWEAR, BUT GO BACK UP QUICKLY! RUN UP THE STAIRS TWO AT A TIME BUT MIND YOU DON'T COME TO HARM! AT ANY TIME THE LIGHT ON THE STAIRS MAY GO OUT! IN THE FLAT, YOU WILL NOT FIND YOUR KEYS IMMEDIATELY, BECAUSE YOU WILL NOT REMEMBER WHERE YOU PUT THEM YESTERDAY. CONCENTRATE AND DO NOT PANIC! MEANWHILE YOU WILL GET A STRONG URGE TO GO TO THE TOILET. DO NOT BE VULGAR; IT WILL NOT HELP YOU! CALMLY SIT ON THE BOWL AND PUSH. YOU PROBABLY CAN'T DO IT NOW. NO, DO NOT LOSE YOUR TEMPER STRAIGHT AWAY! THE MORE PISSED OFF YOU ARE, THE WORSE IT WILL BE – BE AWARE OF IT! RELAX! TAKE ADVANTAGE OF THE UNWANTED TIME TO REMEMBER WHERE YOUR DAMNED KEYS ARE! CONCENTRATE ONLY ON THE KEYS AND YOUR NEED WILL BE SUDDENLY SATISFIED EVEN WITHOUT WILD PUSHING. WIPE YOUR BOTTOM AND PULL UP YOUR TROUSERS. DO NOT FORGET SHIRT-TAIL!
AS YOU PULL UP YOUR TROUSERS, YOUR KEYS WILL FALL OUT AND THE MYSTERY WILL BE SOLVED. MERE ABSENT-MINDEDNESS. SO ONCE AGAIN, RUN! BE PREPARED THAT AT THE FRONT DOOR YOU WILL NOT BE ABLE TO GET YOUR KEY INTO THE LOCK FOR SOME REASON. WHEN YOU SHOVE IT IN FORCEFULLY, IT WILL THEN REFUSE TO TURN. YOU AGAIN EMPLOY FORCE AND IT BREAKS. THE RISK ARISES THAT NO-ONE WILL BE ABLE TO GET EITHER IN OR OUT OF THE HOUSE UNTIL MORNING AND WHAT IS WORSE, THE NEIGHBOUR BELOW YOU WILL WANT TO GET HER OWN BACK ON YOU. DO NOT DESPAIR! RUN UPSTAIRS AGAIN AND WRITE ON A PIECE OF PAPER HOW TO GET OUT OF THE HOUSE ALTERNATIVELY. AFTER ALL, IT IS POSSIBLE TO GO THROUGH THE CELLAR TO THE SIDE EXIT! BEAR IN MIND THAT YOU LIVE IN A TOWER BLOCK! SO QUICKLY MAKE THE SIGN! DO NOT SEARCH FOR FELT-TIPS; THEY ARE ALL DRIED OUT. GRAB THAT PEN! YOU'LL FIND NOTHING BETTER. FOR THE SIGN, USE A PIZZA BOX! DON'T POKE AROUND WITH IT SO LONG – THEY'LL BE CLOSED IN A MINUTE! IT'S ALREADY READABLE, SO GET MOVING! LEAN THE SIGN AGAINST THE DOOR AND WHIZ DOWN TO THE CELLAR! IF YOU CANNOT FIND THE LIGHT SWITCH TO SWITCH IT ON, FORGET IT. DON'T HANG AROUND BUT GROPE YOUR WAY THROUGH THE DARK CORRIDOR! GO SLOWLY AND BLINDLY. AFTER ALL IT'S NOT THAT FAR AND YOU HAVE BEEN THERE 100 TIMES. STICK CLOSE TO THE WALL AND DRAG YOUR FEET SO AS NOT TO TRIP. DO NOT GET DIRTY! BE CAREFUL NOT TO KICK OVER THE RAT POISON. THE SIDE EXIT IS THANKFULLY OPEN. YOU'RE SAVED! STOP ON THE PAVEMENT OUTSIDE THE HOUSE. TAKE A BREATH OF FRESH NIGHT AIR! SIT DOWN ON A BENCH AND CALMLY THINK OVER WHETHER THERE'S STILL ANY SENSE IN GOING TO THE SHOP. IT'S MORE OR LESS 50-50 THAT YOU WON'T MAKE IT.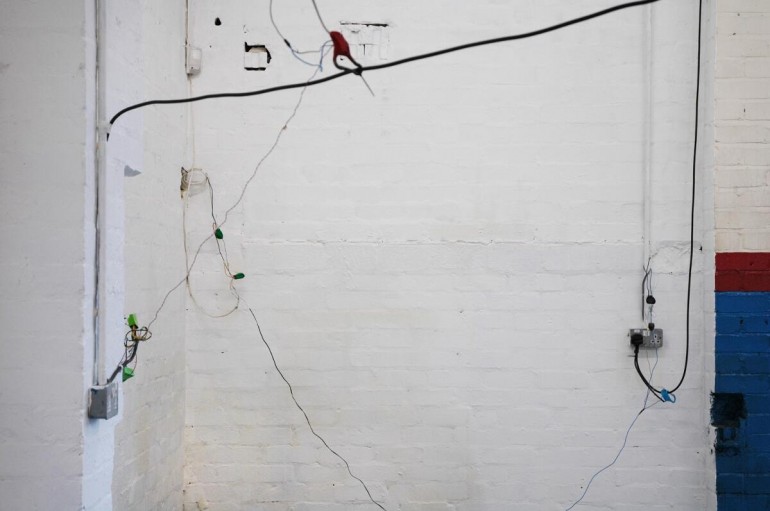 Binds, 2004, mixed media, variable dimensions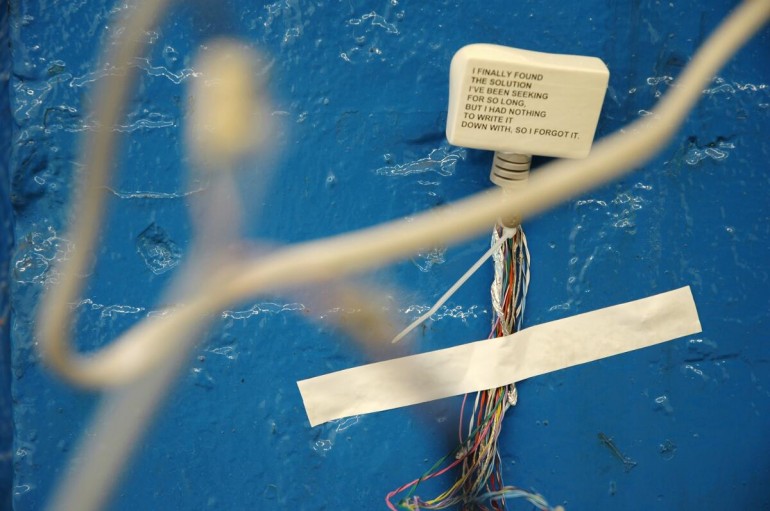 Binds, 2004, mixed media, variable dimensions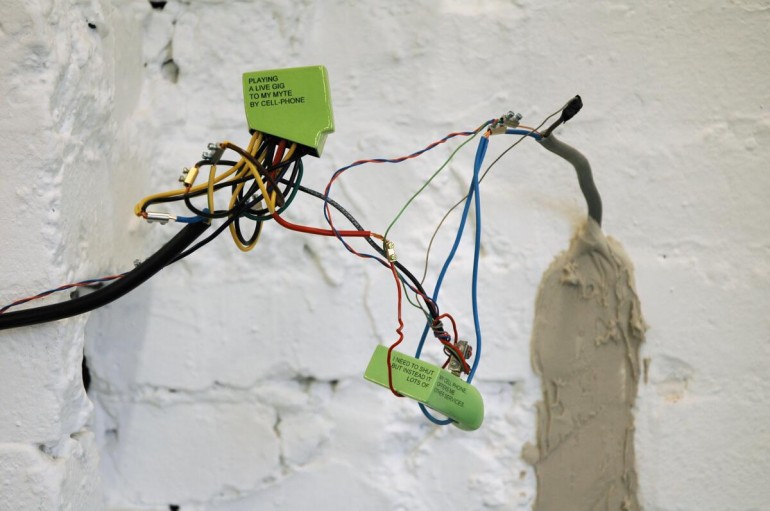 Binds, 2004, mixed media, variable dimensions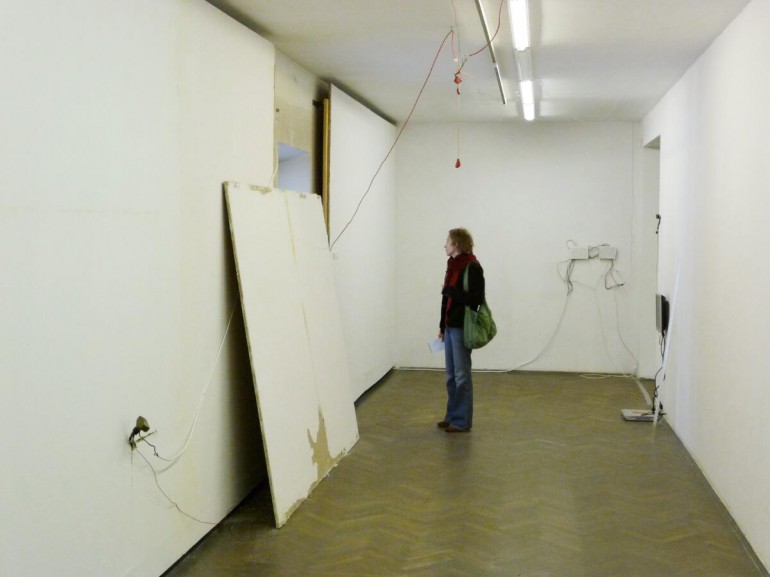 Binds, 2004, mixed media, variable dimensions